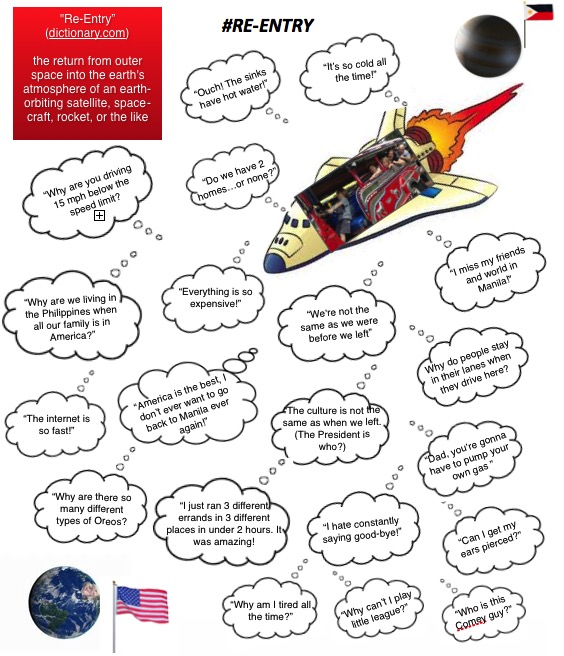 Peter Jordan in his book "Re-Entry" uses the metaphor of a space shuttles return to earth as a metaphor for missionaries returning to their home culture after significant times of service overseas. Re-entry is full of disorientation, stress, confusion, celebration, and grieving – and as you can see from the family quotes on the previous page, we're now going through it!
      This has been really our first significant time back in the U.S. after almost four full years in the Philippines. Right now, we are going through a lot of the surface level adjustments, but people that have gone before us have told us that in the weeks to come we will start processing the challenges and difficulties of living between two worlds and what that means on an identity level and in terms of our well-being our calling.
      This is the main reason we believe this summer has been God's timing for us to go through Cru's International Staff training. Christine and I will be able to get training, coaching, and fellowship with other international staff. But our kids will get those things as well! They each will have contextualized training and mentoring facilitated by people with MK2MK (a third culture missionary kid ministry). Please pray that each of us processes our experiences and current reality well and in a spiritually significant way and that we as a family would celebrate and grieve together the joys and costs of doing life and ministry away from home.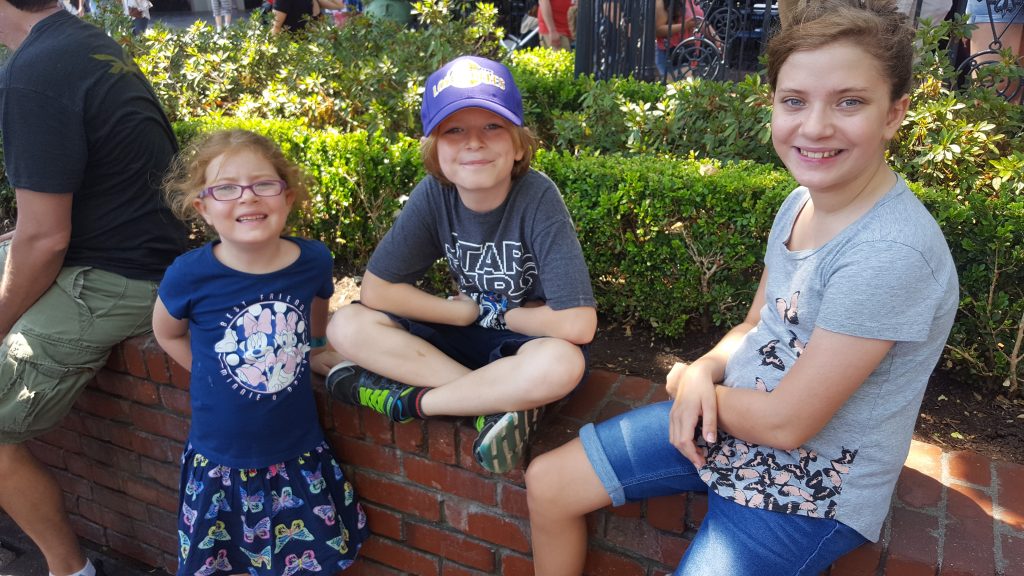 We are CELEBRATING that God has provided all the costs for the training through so much generosity over the past year! We're grateful as it helps us to process re-entry and life on the mission field without extra stress. But in our support consultation in preparation for the training, we were exhorted strongly to raise support for crisis and matters of risk management.
      This past week the President of the Philippines put Mindanao under Marshall Law after a police chief was killed by Muslim extremists. He also casually threw out that he would extend Marshall Law to the whole Philippines if hostilities persist. We have felt very safe, but it's a reminder that the political climate can shift quickly and we need a contingency plan in the event of medical or political crisis. If there is no crisis, the money will go to our eventual transition back from the Philippines.
      To meet this part of our new budget, we need to raise an additional $6500 in one time gifts to cover emergency airfare and related travel expenses. Would you prayerfully consider giving $100, $200 or whatever God may lead to help us meet this strategic and proactive need?  It is possible for you to give here at our web site at this link.
      One of the reasons this "re-entry" metaphor resonates well is that it describes a season that feels out of control. Despite enjoying some of the comforts of home, re-entry for us has included that vulnerability and sense of life being out of control that is pushing us deeper towards faith and dependence on the Lord. This is part of the journey, but we're grateful we have a good God and many great resources and people that can support us through these transitional experiences.
In His Service,
Brian & Christine
P.S. We head to Fort Collins, Colorado on Tuesday, June 6th so you can pray for our 2 day road trip and then we'll kick things off there on the 8th.