Each of these name tags represents a SENT ONE God has raised up to go the world!
      Thank you for praying for our family this summer. It's been a whirlwind of a summer and far from a break in ministry. However, God has shown His goodness to us in some amazing ways and we look forward to giving you a snapshot.
       Over the last 5 1/2 weeks, we have been in Colorado at "XTRACK," CRU's training for international, cross-cultural missionaries. We have been required to attend this training, but because of our cross-cultural and international experience, Christine and I were both asked to be trainers and help come alongside 70 new international missionaries in their preparation and training! Now we already have been training international missionaries in Asia, but this summer we got to help train more Americans God is sending to the world.  We want to introduce you to the people we have had a chance to pour into and that you have had a share in preparing and sending in God's global mission!
Being a mom of young kids as an international missionary is WAY challenging. Because of Christine's journey and experience she was asked to come alongside a couple other mom's and families heading to very different parts of the world:  Thailand and Bosnia!
Cory and Jesse and their two kids below have been in Bosnia for a year and are going back for a longer term to build spiritual movements on multiple universities.
The Kramers are heading to Thailand to work with the Jesus Film Ministry and will be in close proximity to many unreached people groups throughout SE Asia. Their daughter Lola was Kaelyn's good buddy this summer.
In addition to these two families, I (Brian) had three single guys that I came alongside and helped prepare this summer.
Shun (far right below) went to Tokyo for a year and felt God's call to go back long term and reach students in a place where there is a very low percentage of Christians. He was one of my highlights of the summer!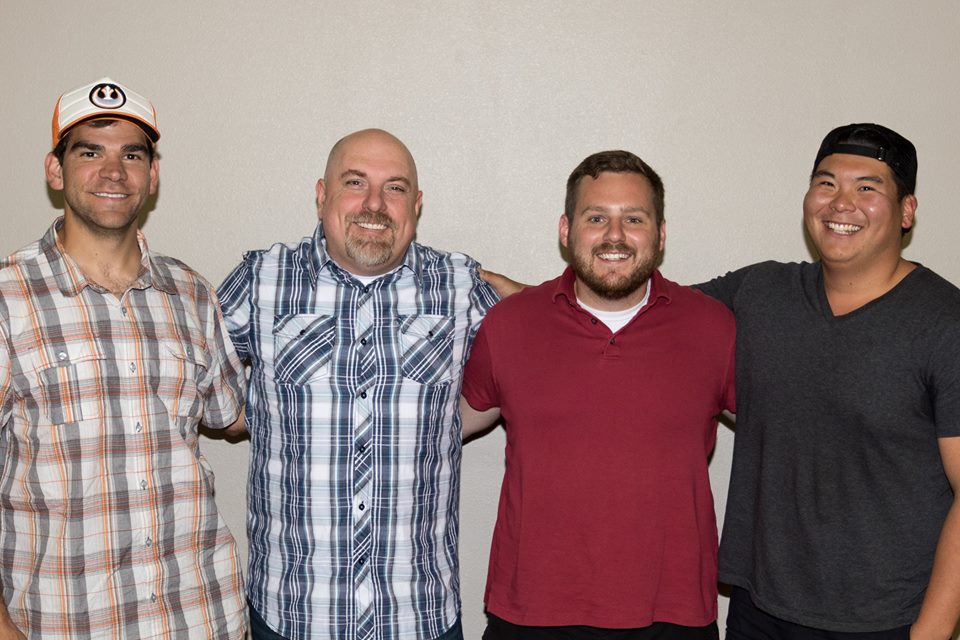 Chad (to my right) is a thoughtful guy from the Maryland area who spent 2 years in Brisbane, Australia helping CCC Australia strengthen their campus ministry. He is returning full-time to Melbourne, Australia.
Fraser (far left) is from Georgia and is returning to a very large country that is closed to launch spiritual movements among students and young people in a large city where he spent two years on STINT.
We both have enjoyed coaching out of our own experiences and struggles – it wasn't our personal plan to coach this summer, but God placed us with people that we connected with and that we were able to help encourage and prepare on their missionary journeys.  We'll share more about our own learning as a family this summer, but we wanted you to celebrate and share in the joy of sending these new missionaries to the international harvest field. SEVENTY new missionaries along with another SEVENTY missionary kids are heading to the world to proclaim the good news of Jesus!
One of the more challenging training sessions last week related to Risk Management and all of what could happen. It confirmed that we really want to be able to have a fully funded emergency travel fund. Right now based on generous gifts this summer it's about 60% towards what we need.  If God leads you to give above and beyond what you may be doing already, it is possible for you to give online by clicking this link right here.
We love pouring into people and helping them become more of who Jesus made them to be and equip them to live out His purposes for them. You make this possible for us to help train and equip workers for the Lord's harvest so thank you so much. We've been so grateful to you and to the Lord during this experience so far.
                        In His Service,
Brian & Christine